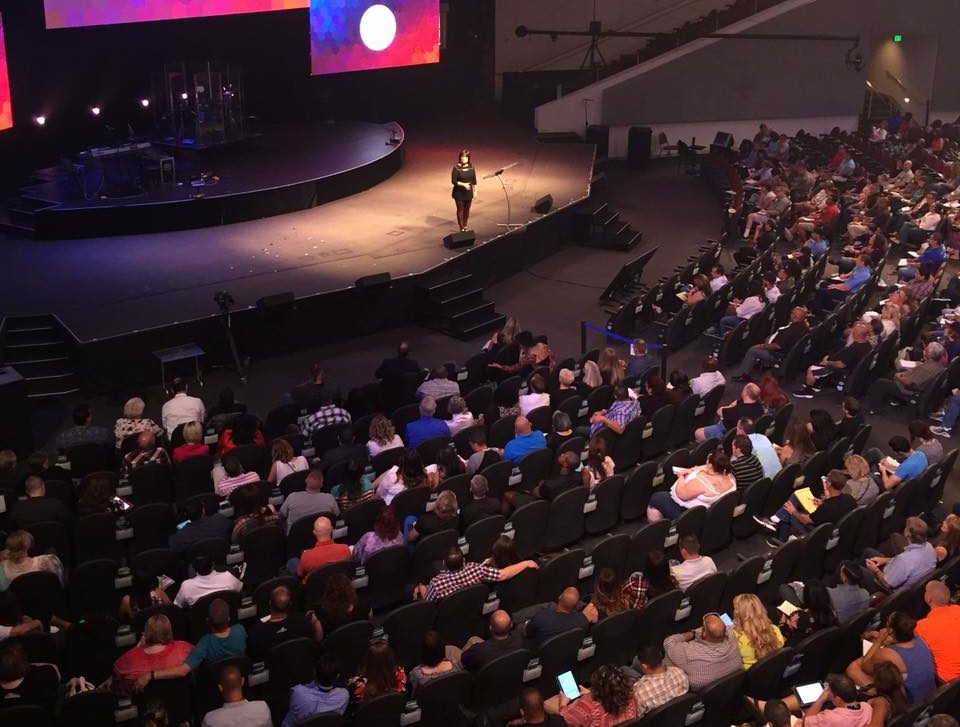 The 20th International Marriage Conference was an incredible time! IMC 20 was the largest conference in the last ten years, and it was the second largest of all time. God did amazing things in the lives of those who attended. Listen to a few of these testimonies that we received:
"My husband and I divorced a few months prior to the conference. We started to think about working on regaining our marriage and decided to attend IMC. After attending, we have become completely committed to working towards repairing our relationship and building a new marriage centered around Christ. As a result of the conference we found a counseling program, which we discovered through IMC, and we have already started that process."
"My husband and I are missionaries/pastors and for us, the conference gave us information to 'chew on' and tweak our marriage. Sometimes the ministry takes more of our attention and we become like business partners than husband and wife, so the time at IMC reminded us how to reconnect and reprioritize."
"We were getting ready to split up because I didn't appreciate my husband enough. He was my first and only boyfriend. I never knew what it was like to be with other people. When a guy from work started complementing me, I grew fond of him and started flirting. Little by little it grew from temptation to where we had sexual encounters. My husband found out, and I told him I wanted a divorce. Our parents talked to us, and we stayed together, barely. When we attended the conference, I felt healing and more love for my husband. It was an experience to remember forever. I will forever appreciate NAME."
Watch our IMC 20 Re-cap Video!
Every year, NAME draws in great and inspiring speakers to our IMCs. This year our speaker line up brought incredible and practical truths. Overall, there was a threaded theme throughout conference, highlighting the need of acting humble towards one another. It was powerful. Every speaker's topic was timely, and we wanted to include some of the amazing speaker lines from IMC general sessions:
"Why do you fight with the person you love the most? Perception! At the heart of every conflict is the perception of threat and perception of neglect." – Les & Leslie Parrott 
"NAME is here to help change the culture of divorce to a culture of blessed marriages!" – Molly Godzich, NAME executive director
"Humility is acknowledging our dependence on God!… Pride says, 'I'm self-sufficient. I got this.' God opposes the proud and gives grace to the humble… and SO DO SPOUSES!" – Ron Deal 
"We got to expose the lies early on because it is the subtleties that destroy a marriage… To fight for your marriage is to fight for your spouse's heart. How often are we fighting for the emotional nakedness of the one that we love?" – Joshua Straub
"The little exits daily come from small lies and untruthfulness. Marriage is built on trust, and trust is built on truth." – Luke Barnett 
"Our greatest reward comes from what we focus on; our greatest pain comes from what we neglect." – Bishop Dale Bronner
"God can mend your broken pieces. Lean on Him for hope, and gain freedom from your fear and pain." – Bob & Audrey Meisner
Prior to conference on Thursdays, we have a NAME Certified Marriage Specialist pre-conference. This year our day seminar had special speakers, Ron Deal and Joshua Straub. They taught our counselors who do volunteer biblical counseling in their churches some incredible truths specific to the issues that our counselors are facing in their appointments.  These NAME marriage leaders left very equipped!
Friday we had our very first Singles conference for IMC. This was a special track for all those who were interested in marriage and wanted to learn everything they can in preparation for it. This helped equip them for the future! Friday night and Saturday there was a separate Spanish marriage conference. Spanish-speaking couples had a great time of worship, teaching and altar time, and many of these couples would not have received the marital help they needed without this Spanish track of IMC. NAME was pleased that the Singles and Spanish conferences went well!
Another amazing part of this year's conference was the amazing workshop options. 80% of our workshops were BRAND NEW. Alumni who came from year's past loved the fresh information and specific topics to choose from. New couples felt that they could choose topics for their exact needs! We had a wonderful speaker team doing the workshops at IMC. We would be remiss if we did not also thank Brad & Rebekah who led worship, all of the amazing and talented dramatic productions and special music, the church's media team, and the incredible team of over 50+ volunteers who helped put on this incredible conference. We could not accomplish it without them.
For those of you who want to purchase the DVDs or MP3 recordings of the general session, we apologize but those are not yet ready. We are waiting on the conference venue to send them over to us. Thank you so much for your patience. Keep checking your email inbox. We will send an email notification to you when they are made available. 
We also wanted to share with you our 20th anniversary celebration video that was made for this event:
As a non-profit organization and ministry, we at NAME cannot thank you enough for your ongoing support. At IMC, many sacrificed greatly by giving our faith-based non-profit very generous donations. This is the only way that NAME can continue marriage ministry and the free counseling that we give. You are treasured! Thank you for your support. We have had such an incredible past, and in faith, we believe God will continue to meet the needs of our ministry for He has a bright future ahead. God bless you. Thank you. If you are interested in donating to our organization, please click here. Be blessed! We hope to see you next year!