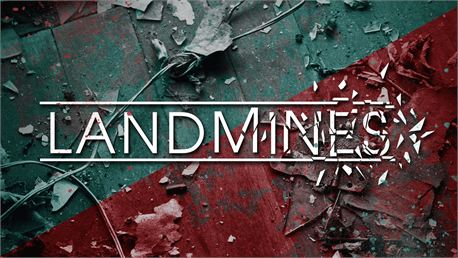 BOOM. Instantaneously, a once thriving marital relationship can be wrought by horrific, deafening, mind-numbing pain. Your marriage is hemorrhaging and the situation seems all together unmanageable. This is the reality of the landmines that frequently explode in marriages just like yours… and the reality is there are some pains that you cannot anticipate ahead of time.
The death of a child is one of the harshest storms a couple could ever weather. Most of us cannot even wrap our minds around a loss that tragic. The loss of everything you own, as you are jolted into poverty, can bring on an extremely devastating and debilitating depression. When a spouse is stricken with a terrible, painful illness or are suddenly paralyzed or succumbed to a brain injury, many couples are faced with horrifying decisions so awful that they feel they can relate to no one else.
The Bible speaks of a man who encountered these vicious landmines in his own life. His name is Job… and Job had a wife. After encountering a horrific disease, "his wife said to him, 'are you still maintaining your integrity? Curse God and die!'" (Job 2:9). It is important to recognize that his wife has also gone through painful emotions associated with this, but unfortunately her response was not to stand with Job but rather to turn against him in anger. This is an incredibly common response when couples face pain this intense. Even though some of these things are outside the control of either spouse, the devil still uses it to divide them.
Then, we see Job's response to his wife. "He replied, 'you are talking like a foolish woman. Shall we accept good from God and not trouble?' In all this, Job did not sin in what he said" (Job 2:10). By no means do we suggest calling your grieving wife a fool, however, the Bible says Job did not sin. Job had to correct his wife's thoughts and help restore her to the path that trusts God. Job and his wife endured likely the greatest pain and difficulty mentioned of any couple in the Bible. From that, we see the natural, fleshly reaction to turn against one another, and we see the necessity to help our spouses maintain faith in God.
When encountering landmines in marriage, you have to purpose together to maintain your faith in the Lord. At times, it will feel near impossible to do so, but there are couples that have weathered storms similar to yours. And the underlying commonality of those marriages is the resolve to not let the situation divide them but rather unite them as they desperately cling to the mustard seed sized faith that they have left. God can work miracles with that. "If you have faith like a grain of mustard seed, you will say to this mountain, 'move from here to there,' and it will move, and nothing will be impossible for you" (Matthew 17:20).