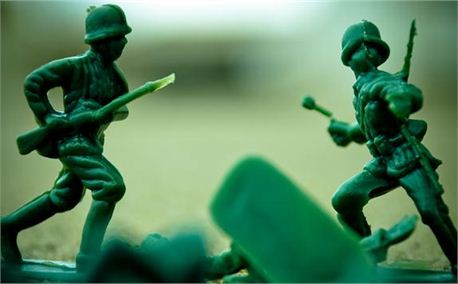 Some of the most heartbreaking war stories are those of death by friendly fire. Friendly fire is a military term for when two allied or same-side forces misidentify one another as hostile or the enemy and fire— often wounding or killing a friendly officer. Imagine the devastation a soldier feels when he realized he injured one of his own. Imagine the breach of trust that creates for the wounded solider. War is full of high stress and tensions; mistakes can be made due to a lapse of judgment or an exhausted attempt. Decisions made in seconds can lead to years of heartache and torment.
In marriage, we often experience our own version of friendly fire. We forget who we are fighting due to exhaustion or high stress situations. We turn on one another. We are partners who misidentify one another as the enemy. As Christians, the Enemy is and will always be Satan, his demonic forces and the desires of our own flesh; our spouse is not the enemy but the one who is supposed to help cover us when under fire. That being said we have to shield ourselves from the potential of division in our own ranks by identifying ourselves by who we are fighting for.
It's easy to misidentify one another as the enemy when we are acting like the Enemy. Conversely, it is difficult to misidentify one another when we are acting like our Commander, Jesus Christ. We are soldiers recruited by Christ and our commitment is to Him. The Bible says:
"Share in suffering as a good soldier of Christ Jesus. No soldier gets entangled in civilian pursuits, since his aim is to please the one who enlisted him… If we have died with Him, we will also live with Him; if we endure, we will also reign with Him; if we deny Him, He will deny us; if we are faithless, He remains faithful—for He cannot deny Himself." 2 Timothy 2: 3-4, 11-13 ESV
Let's dissect this verse a little. What does it mean to share in suffering? This is the total awareness of Christ's sacrifice on the cross and our embracement of the suffering and persecution we experience for His namesake. When you fully comprehend what His sacrifice meant, the suffering you experience here on earth pales in comparison. Also, what does it mean, "no soldier gets entangled in civilian pursuits since we aim to please the one who enlisted us?" Christ recruited and enlisted us. By acting in the flesh against one another, we are ungratefully rejecting His ways. Our fleshly actions say that we know better than He does and honor our own judgment more than His.
Why does any of this matter?  This whole passage shows what our dedication to Christ is supposed to look like. Soldiers are some of the most dedicated and passionate people. They aim to please their leaders and respectfully follow the orders given to them. They understand the concept of togetherness and try to avoid creating unnecessary conflicts when it does not lend to the overall objective.
So what is your overall objective, and how does this relate to marriage? Your overall objective, as a team, is to please the recruiter and Commander, Christ Jesus.  Your marriage is to be unified and pointed in the same direction. When you both are easily identifiable in Christ's likeness by becoming more like Christ, it is nearly impossible to identify one another as the enemy. The Enemy will attempt to stress you, to catch you in a time of lapsed judgment and to hurt you while you are exhausted. By following the direction of the Commander and remembering you are on the same side, you will shield yourselves from the desire to fire on one another.